Jade Mountain and Anse Chastanet: Double your Pleasure in Saint Lucia
By Melanie Reffes, Travel Journalist

2020-08-24T00:00:00-04:00
2020-08-24T13:34:22-04:00
en-US
Aug 24, 2020
Jade Mountain is luxury living high on a hilltop Photo Credit Jade Mountain
The superstar on the southwest coast high above its sibling 600 acre beachfront resort Anse Chastanet, Jade Mountain offers knock-your-socks-off gorgeous views of the Piton Peaks and the Caribbean Sea. Both resorts invite with rooms with views or more aptly views with rooms that are grand sweeping spaces with nighttime illuminating floating platforms that are called mere infinity pools at other resorts, unapologetically sinful bathrooms and the signature fourth wall that opens to uninterrupted vistas of Mother Nature's finest.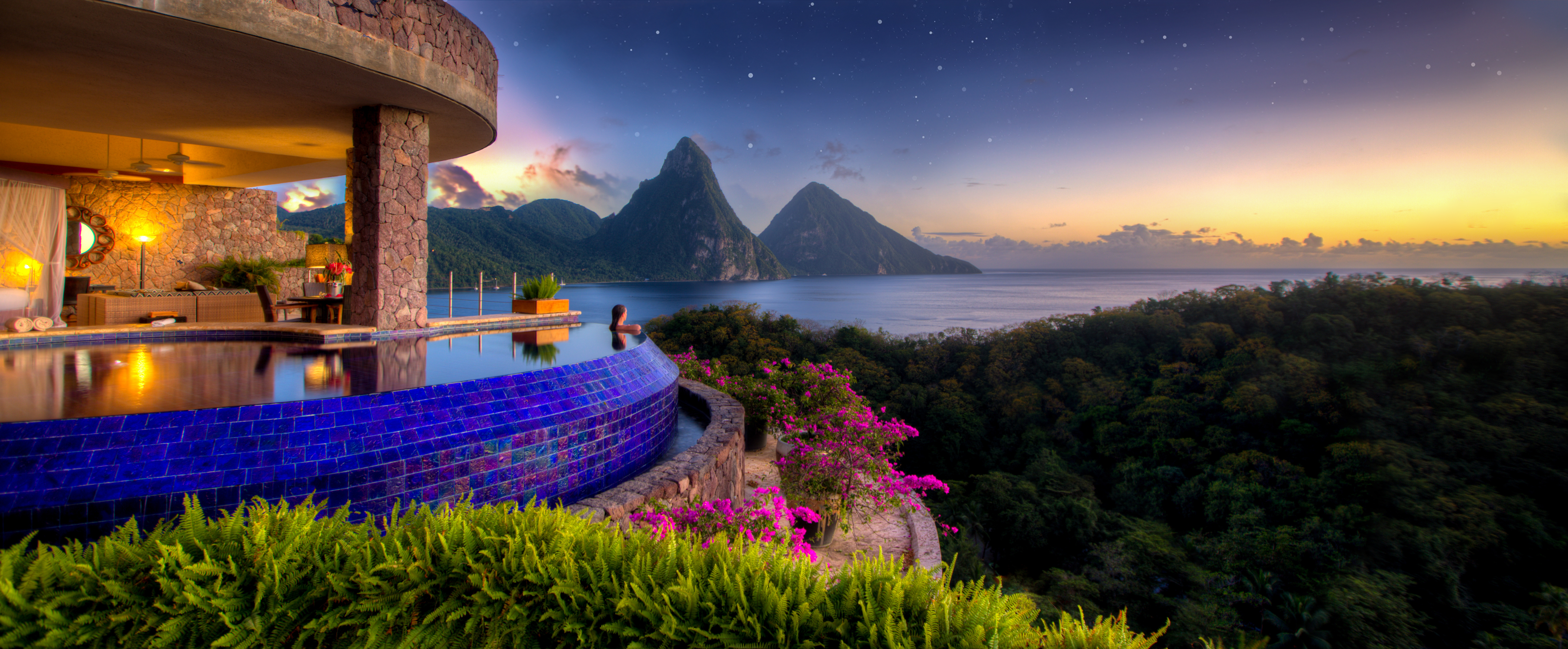 Dramatic views of Mother Nature"s finest Photo Credit Jade Mountain
One of the few resorts on the island with views of both the Piti and Gros Piton Mountain, Jade Mountain borders a pair of sandy beaches with spectacular coral reefs just offshore.
Suites that are called Sanctuaries are regal with the bedroom, living area and infinity pools in some of the suites that float into each other with a signature 3-wall only design. Inviting with a Caribbean cornucopia of vacation must-haves like restaurants, bars, boutiques, art gallery, spa, scuba, cycling and watersports facilities, the savvy retreats are the top pick among discerning travelers.
Designed by Canadian architect and owner, Nick Troubetzkoy, the resorts are popular with luxury seekers from around the world. "Nick created open-walled, open plan sanctuaries, all of which face the Pitons so that guests can enjoy the view from many vantage points from their bed and their living area to our spacious bathrooms, "said Karolin Troubetzkoy, executive director, marketing and operations, Anse Chastanet and Jade Mountain Resorts, "our environment is one where guests are in perfect harmony with the surroundings."  www.jademountain.com, www.ansechastanet.com.
Sleep Tight
With 15-foot ceilings and nighttime cooling courtesy of the gentle breeze, a good night sleep is guaranteed in each of the 29 sanctuaries. Extras that go the distance include Molton Brown Body Remedies, butlers known as 'Major Domos' who attend to requests around the clock and a "firefly " communication device which facilitates contact with the service team at any time. A welcome media detox, there are no televisions, radios, or telephones in the sanctuaries with infinity pools and in the  Sky sanctuaries, guests are politely requested not use their cell phones in public areas although for diehards; Wi-Fi is available in the reception area and in the sanctuaries.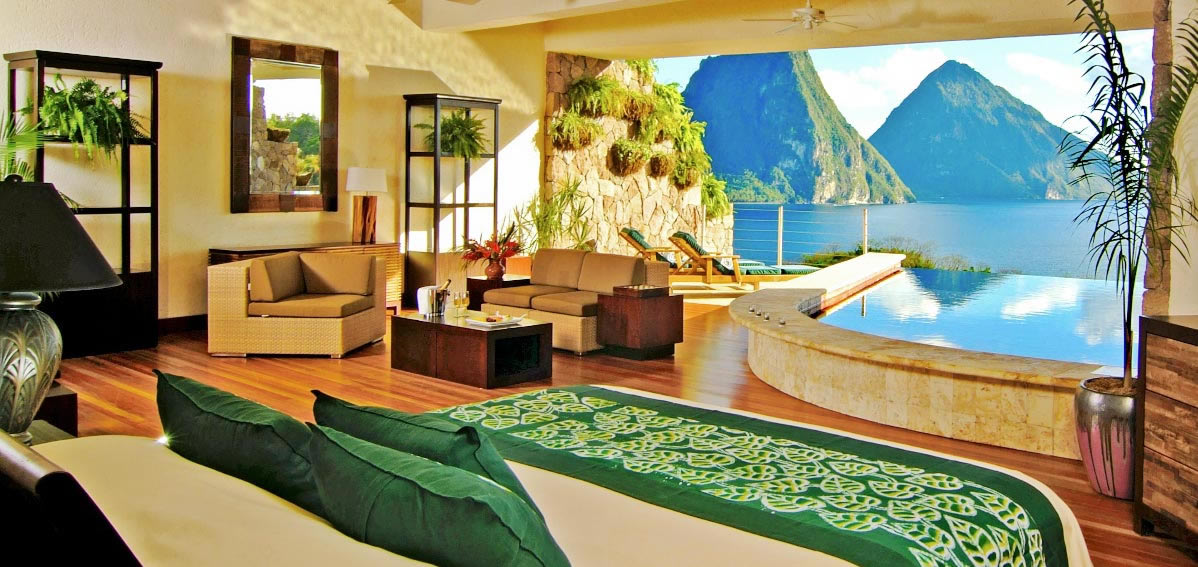 STAR Sanctuaries invite with private infinity pools Photo Credit Jade Mountain
Take your pick from the Star, Moon and Sun sanctuaries to the largest Galaxy with infinity pools and 2,000 square feet of living space. In addition to the 24 infinity pool sanctuaries, there are 5 Sky suites with a two-level  layout, open bath design with a raised couples tub. "Guests have been known to self- isolate in their sanctuaries long before Covid-19, "adds Karolin Troubetzkoy, executive director, marketing and operations, "why come out when one can enjoy the very essence of Saint Lucia from one glorious location."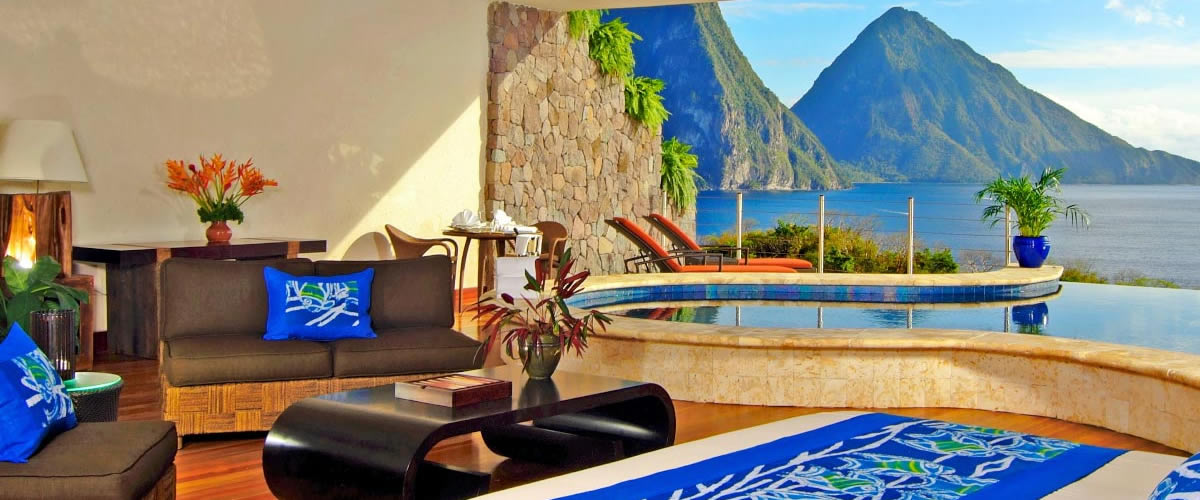 MOON Sanctuaries salute the Piton Peaks Photo Credit Jade Mountain
Cool Pools
The infinity pools are unique in color and design; some with a shallow water lounging area and a large swimming area. Surfaced with glass tiles and a color scheme that is different in each sanctuary, there is a textured iridescent surface on one side and a smooth surface on the other.  Upping the visual appeal, fibre optics illuminates the pools at night with the option of a range of colors or one particular happy place shade. "Twenty-four  of the 29 sanctuaries have private, heated infinity pools which are up to 950 square feet in size, allowing guests to not only enjoy a plunge but also swim laps in the privacy of their suites," added said Karolin Troubetzkoy, executive director, marketing and operations.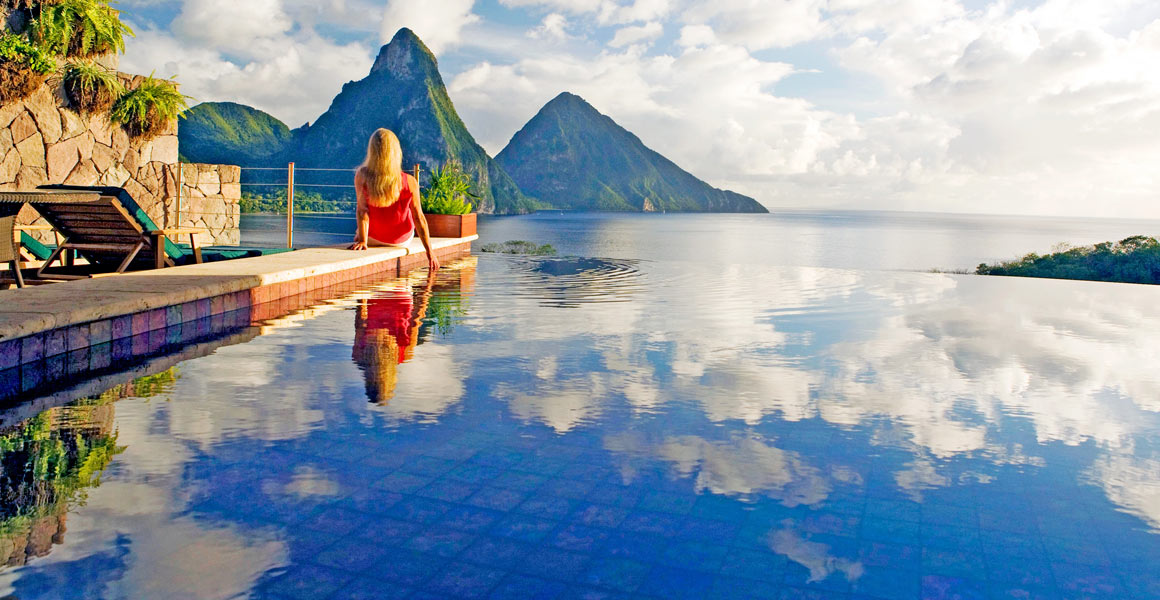 Pools are designed with a shallow water lounging area and a larger swimming area  Photo Credit Jade Mountain
Tubs for Two
Turning up the swagger, true original bathrooms are accessorized with shower towers, body sprays, porcelain sinks; whirlpool tubs big enough for two and dramatic views.  A far cry from your run-of-the-mill resort bathroom, these are designed with an eye to style.  Whether you spend a little or a lot of time, the bathroom is, indeed, a haven for rejuvenation.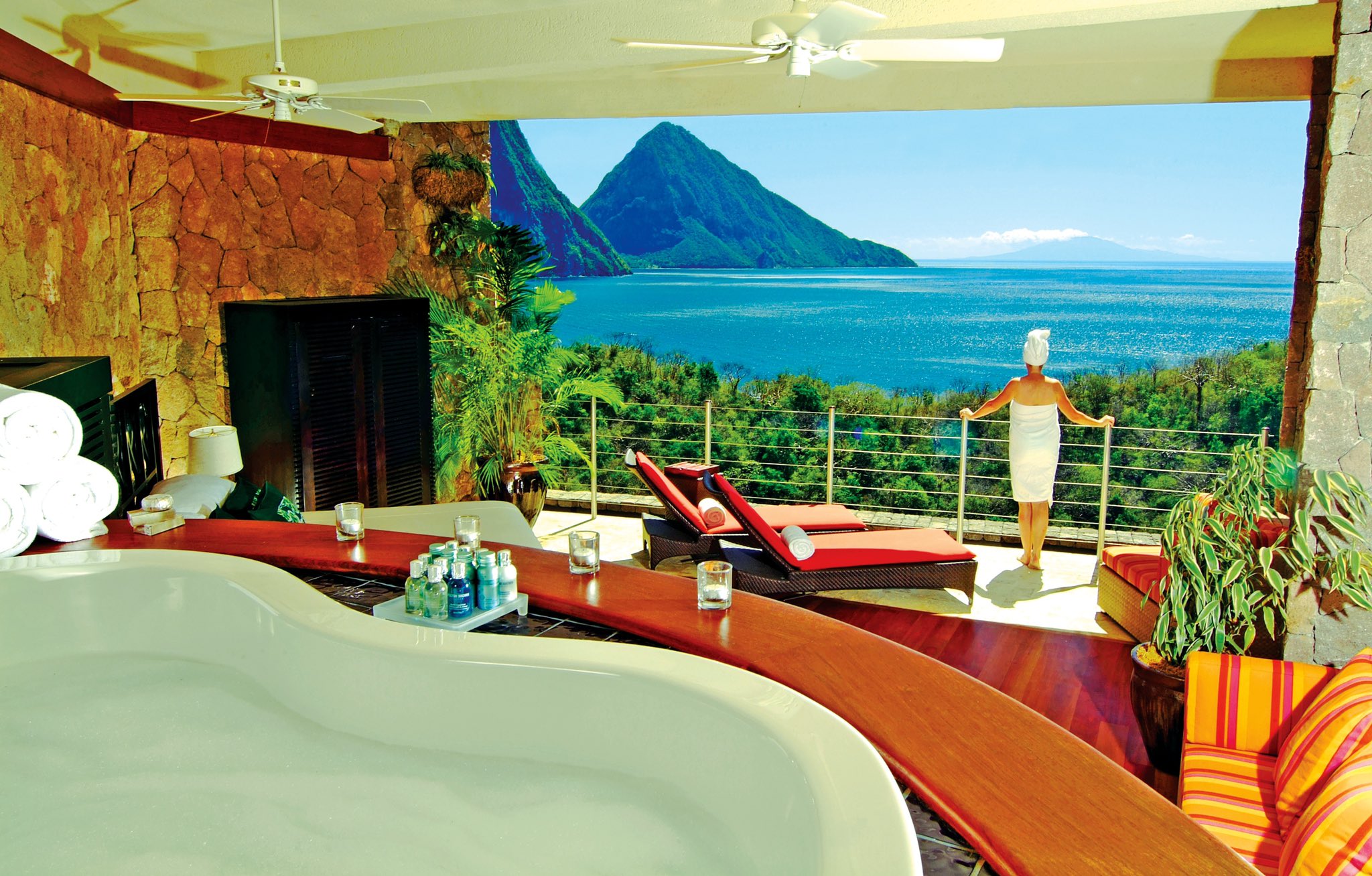 Bathrooms at Jade Mountain are true originals Photo Credit Jade Mountain
Bring your Appetite
As the song goes, there may be a cheeseburger or two in paradise and on the soft sand of Anse Mamin Beach, the best burger on the island is the star attraction at the Jungle Bar and Grill. Hitting the burger bullseye, the fan favorite is crowned with bacon and blue cheese and for non-meat eaters, the veggie version is almost the real deal perfectly grilled with chickpeas, eggplant, okra and amped up with green figs. For fans of seafood, red snapper ceviche spiked with coconut won't disappoint and for a thirst-quencher par excellence, a minty-muddled mojito seals the deal.
Burgers on the beach at the Jungle Grill Photo Credit Anse Chastanet
Wrapped around an infinity pool with a palette of Caribbean colors, Jade Mountain Club is exclusive to resort guests and open for breakfast, lunch and dinner .Under the watchful eye of James Beard award winner, Chef Allen Susser, signature dishes are locally sourced with vegan and vegetarian options available. To toast the sunset, a cocktail on the Celestial Terrace is as romantic as the night sky.  Keeping the theme, dining en-suite is a couple-pleaser. At Anse Chastanet, Treehouse Restaurant tempts with local specialities, no-meat options are on the menu at the Piti Piton Lounge and on the beach, Trou au Diable Beach Restaurant salutes the Creole flavors of the island with East Indian fusion for dinner.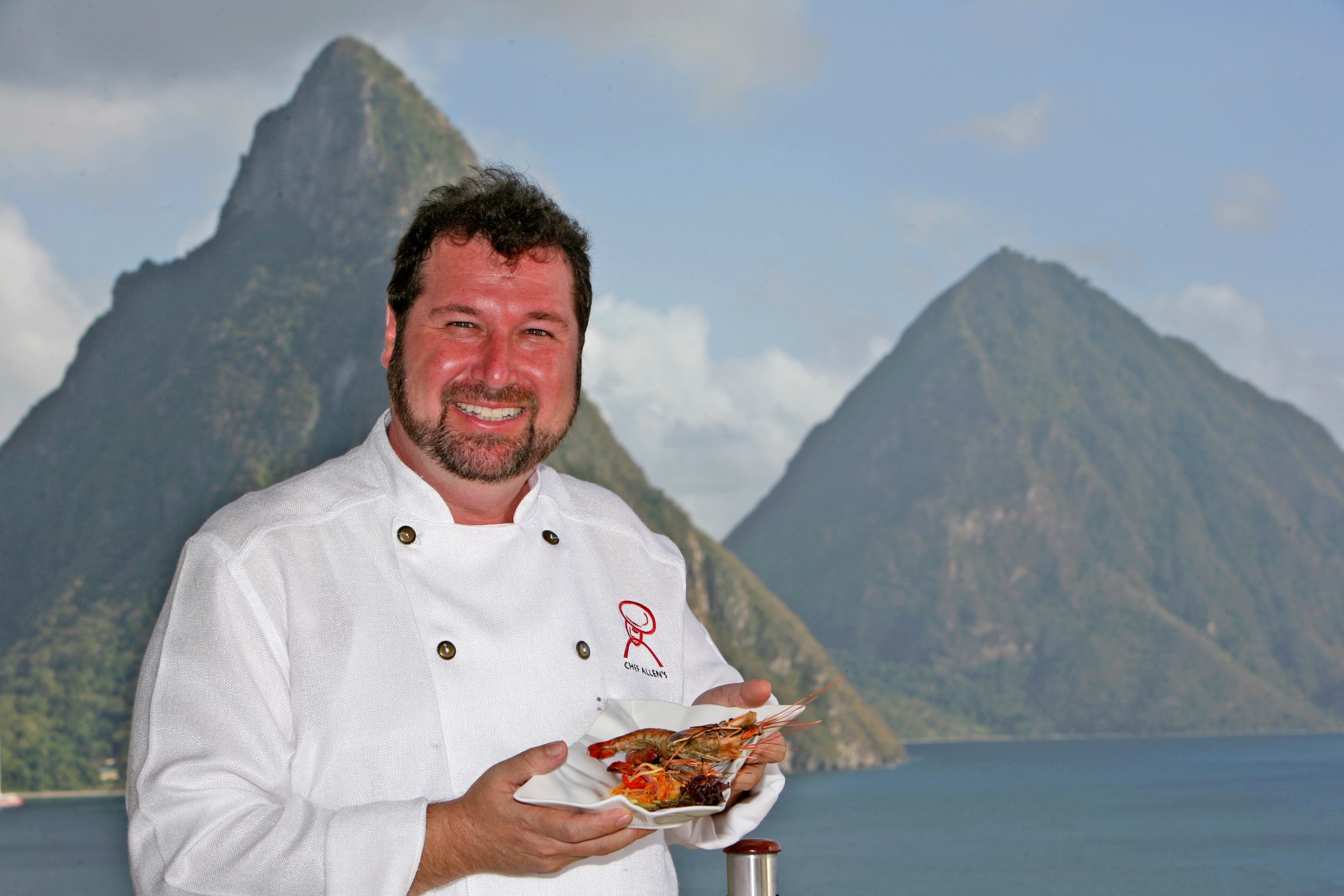 Chef Allen Susser is a cookbook author and James Beard award winner Photo Credit Jade Mountain
Sweet Treats
Creole for "House of the Sea," Kai en Ciel is a spa perched high on the hill above Anse Chastanet Bay. With uninterrupted views of the sea and the beach, a myriad of massages, wraps, rubs and scrubs aim to please like the yummy Chocolate Rituals that use the cocoa beans grown on the estate.  Worth the splurge include Chocolate Citrus Body Polish, Chocolate Facial and the Hot Chocolate Candle Massage. En-suite treatments are also available. For a sweet sip, Nick Troubetzkoy's Imperial Chocolate Stout is made at the island's Antillia Brewing Company with the roasted organic cocoa nibs grown on the resorts' estate.  "More than 2000 cocoa trees grow on the our estates; we even make own chocolate," said Karolin Troubetzkoy ,executive director, marketing and operations, "as a special sweet treat, our guests who love chocolate especially enjoy our chocolate making classes. "
Imperial Chocolate Stout is made on the island Photo Credit Jade Mountain
Big Blue Yonder
There are plenty of activity options like sunrise and sunset yoga, jungle biking on 12 miles of trails and keeping fit in the fitness studio. Non-motorized watersports include snorkeling, kayaking and paddle boarding and for a day on the waves, a yacht is licensed for coastal sailing and cruising excursions. Sitting pretty on a pair of beaches, a sun lounger is the go-to on the sand.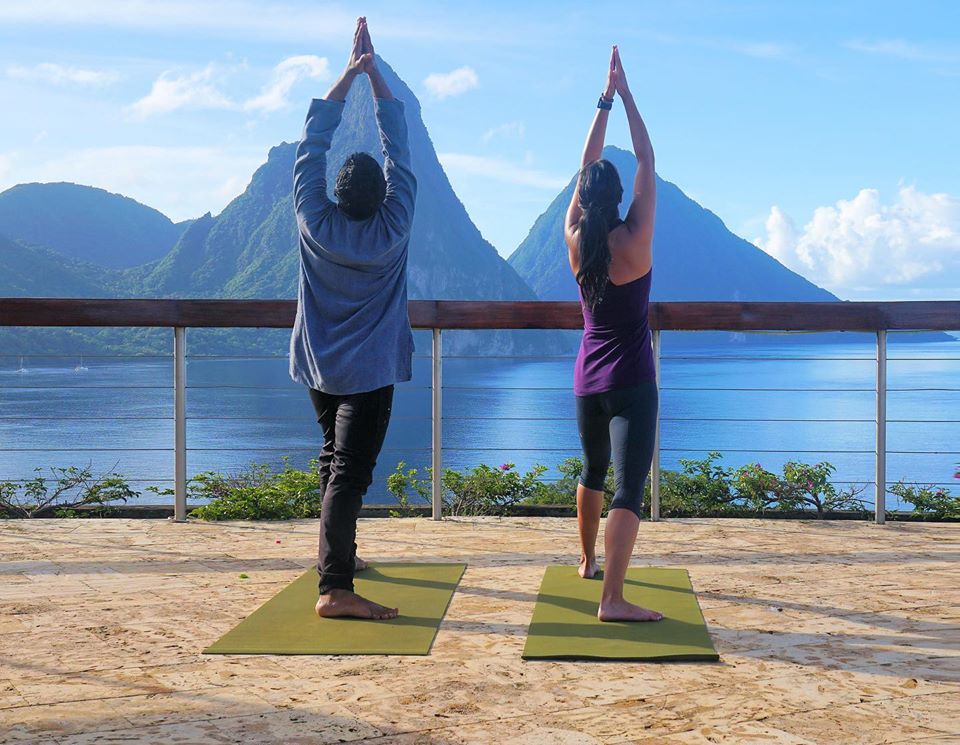 Sunrise and sunset yoga Photo Credit Jade Mountain
AND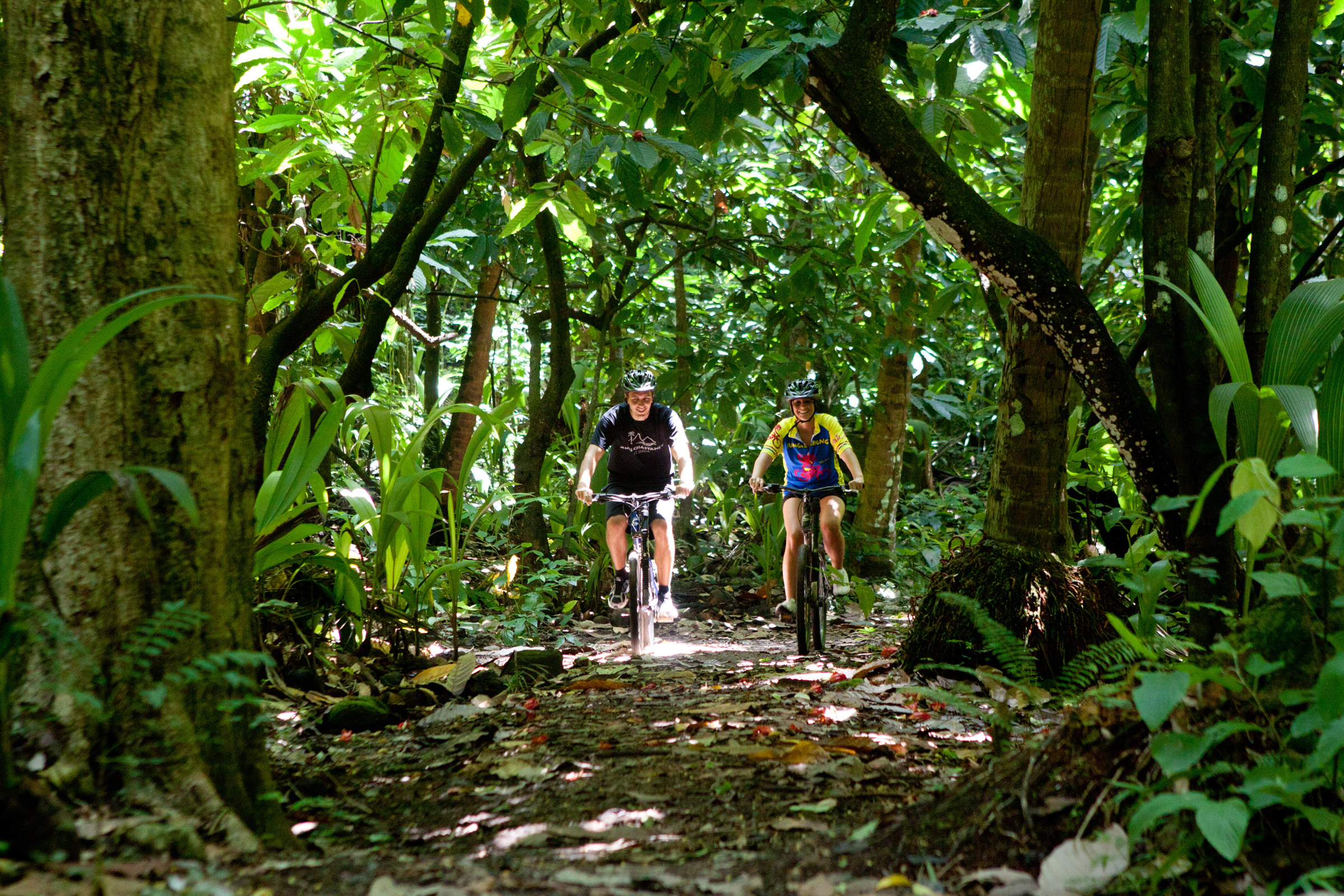 Jungle biking is popular with outdoorsy couples Photo Credit Anse Chastanet
Happily Ever After
Tailoring weddings to each couple, ceremonies are limited to one a day. Without a standalone wedding chapel,   venues are tres romantic from the Celestial Terrace, Treehouse,  Anse Chastanet and Anse Mamin beach , inside a sanctuary and onboard a boat at sunset.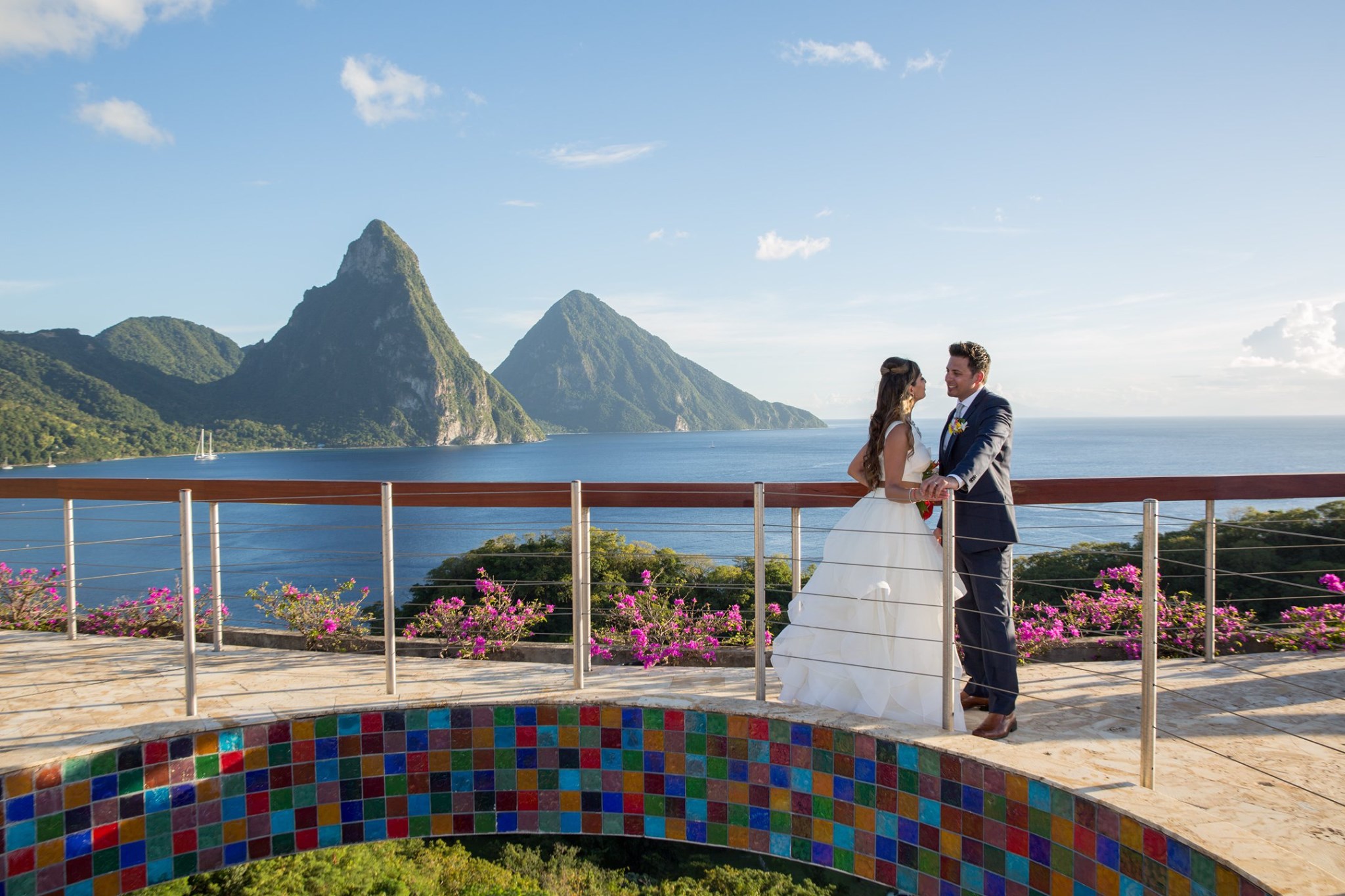 Spectacular venues for weddings Photo Credit Jade Mountain
For certified divers, an underwater wedding is the stuff of magical memories with the legal ceremony taking place on the water's edge and vows exchanged below the waves using slates and sign language. "Tranquility, romance and adventure are the hallmarks of our resorts with synergy between our stunning location, unique architecture and unforgettable hospitality, "adds Karolin Troubetzkoy, executive director, marketing and operations. Easy like Sunday morning, resort staff prepares the paperwork prior to arrival.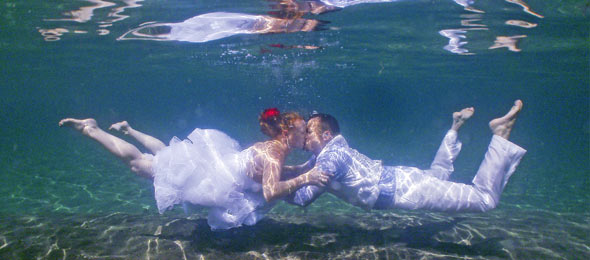 Underwater weddings can be arranged for certified divers Photo Credit Jade Mountain
Sky's the Limit
The only resorts on the island with a helipad, helicopter rides are offered for an arrival in style from the Hewanorra International Airport (UVF). COVID-19 certified with a safety first mandate, pilots are experienced flying the 6-minute scenic trip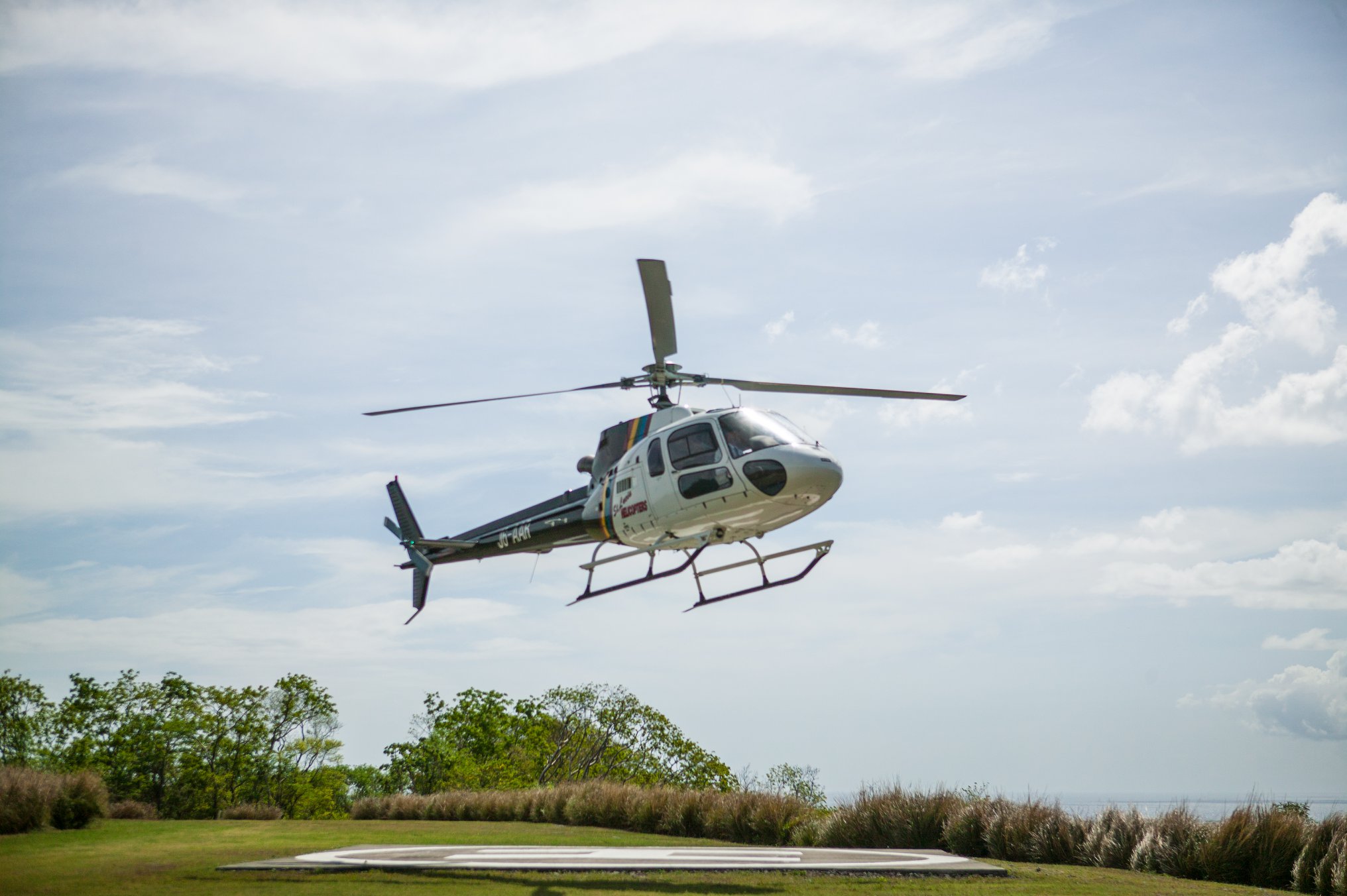 Arrive in style onboard a helicopter from the Hewanorra International Airport Photo Credit Jade Mountain
Safety First
The recipient of the WTTC Global Safety Stamp, safety protocols are held to the highest standards. The stamp ensures peace of mind for travelers in this 'new normal' environment. For health and safety regulations, visit www.jademountain.com, www.ansechastanet.com. For Saint Lucia entry requirements visit https://lnkd.in/e4i-wCJ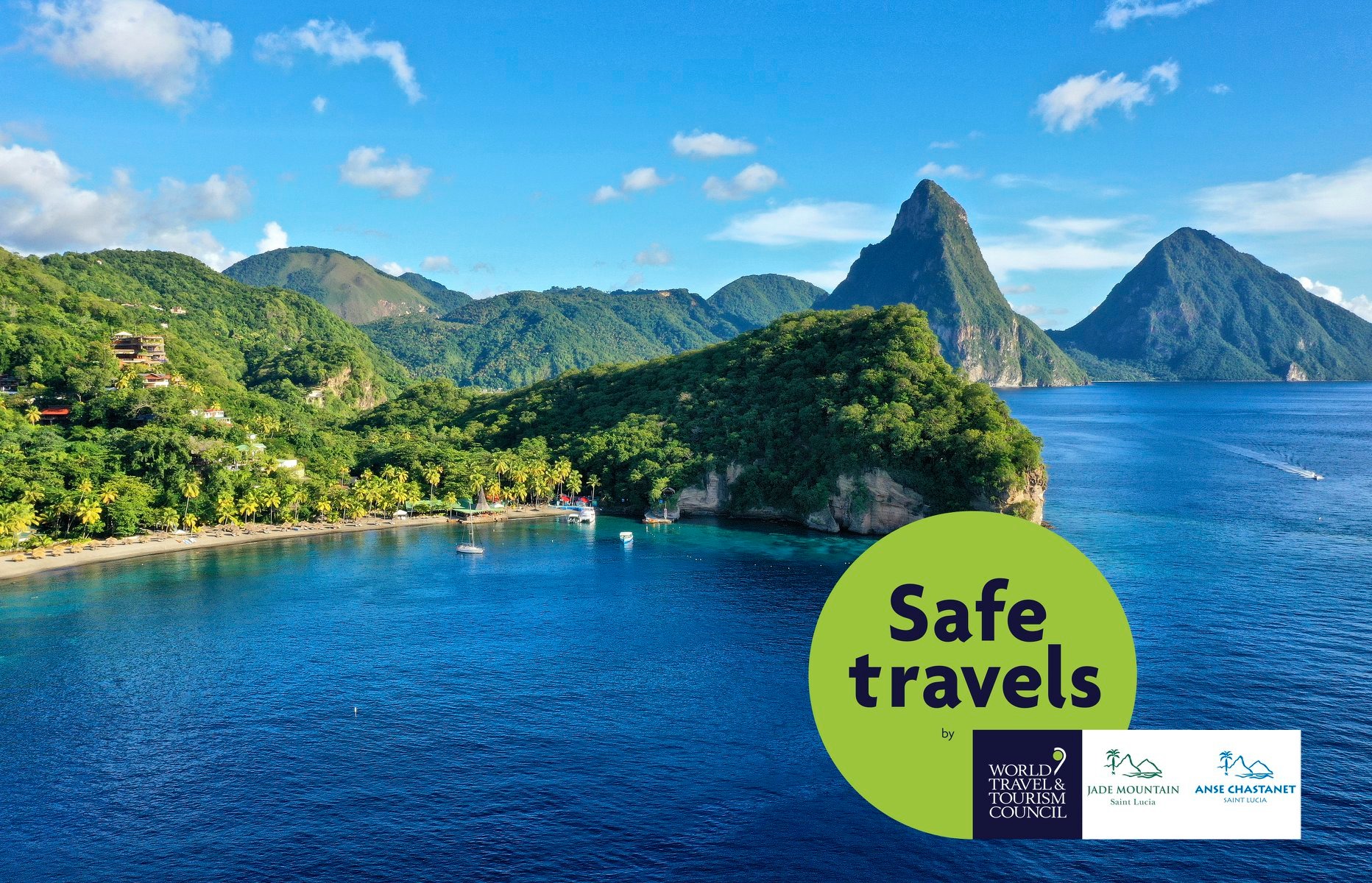 Jade Mountain is a recipient of the World Travel and Tourism Council  Global Safety Stamp Photo Credit Jade Mountain
Travel Soon
A gratis 5th night at Jade Mountain is offered when the 'Take Five' package is booked in a Sky, Star or Moon Sanctuary, some with en-suite infinity pools.   Nightly rates start at $1,225 bookable until Oct. 31 for travel through Dec. 19 and again from Jan 3. – Dec. 19 2021.   At Anse Chastanet; 'Escape Sale' nightly rates start at $513.00, bookable by Oct. 31 for travel through Dec. 19. www.jademountain.com, www.ansechastanet.com.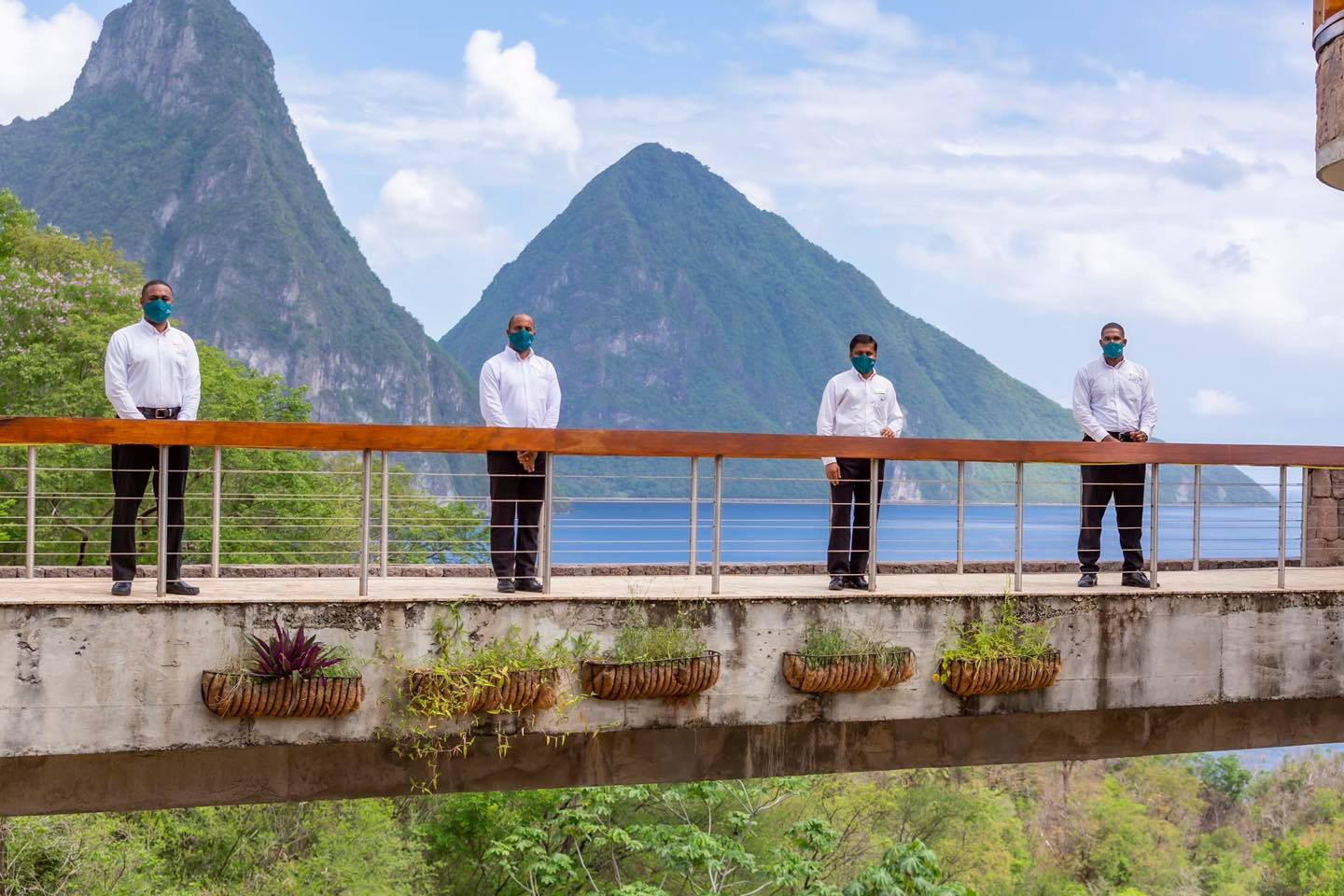 Team members adhere to the highest standards of health and safety Photo Credit Jade Mountain
Plan Ahead and Save-the-Date
Oct. 1 – 5: Spices of the Caribbean
Nov. 10 – Nov 15: Lobster and Champagne with Michelle Bernstein
Dec. 9 – 14: Discover Chocolate Festival
www.jademountain.com, www.ansechastanet.com.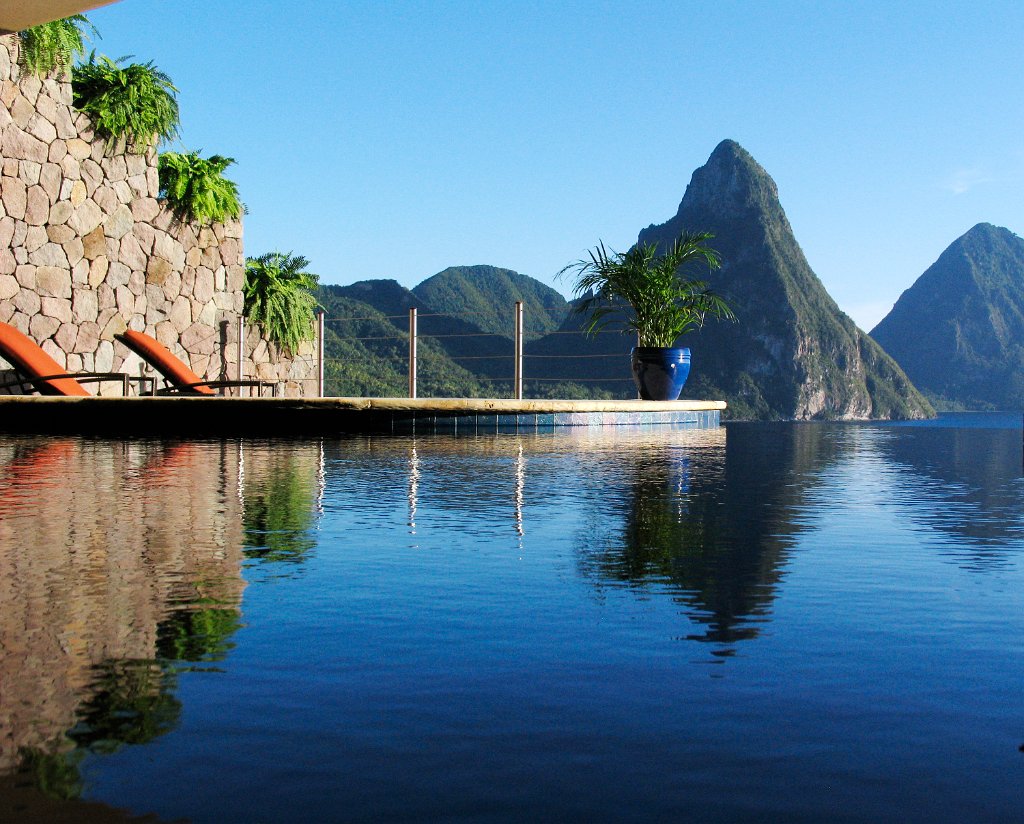 Perfect harmony with the surroundings Photo Credit Jade Mountain