ANTIGUA AND BARBUDA TOURISM IS ON A ROLL
Spectacular vistas of English and Falmouth Harbours from Shirley Heights Photo Credit Antigua Barbuda Tourism
Airlift, hotel occupancies, and first-time visitor arrivals are on the rise
ANTIGUA & BARBUDA JULY 2021: A steady increase in tourism arrivals from the United States and a surge in bookings from the United Kingdom is signaling that the bounce-back of the Antigua and Barbuda tourism sector has begun in earnest.  "This is good news for the country's economy, as our main source markets, re-open to international travel and we see our airlift and hotel occupancy levels increase. " said Antigua and Barbuda's Tourism Minister, the Honourable Charles 'Max' Fernandez.   He further indicated  "Antigua and Barbuda is open, and we are delighted that consumers can have confidence in traveling to our shores. We have worked steadfastly to ensure the safety of our people and our visitors, and we are pleased and proud that this resulted in a lower number of COVID cases and by extension, reduced the negative impact on our economy."  "We will continue to do everything we can to maintain a safe environment as the number of arrivals increase and our economy rebounds," said Minister Fernandez.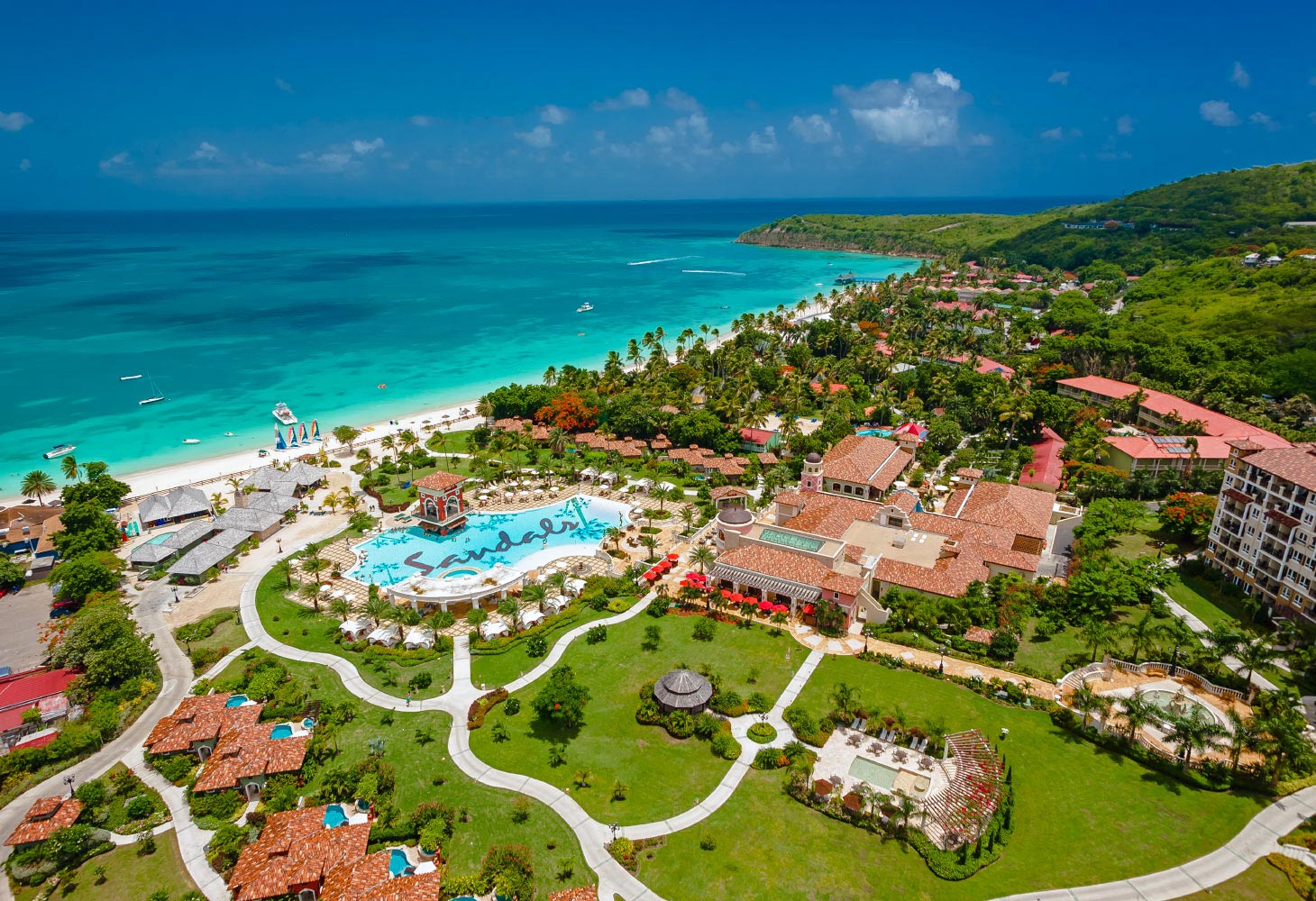 Sandals Grande Antigua  on Dickenson Bay is an adults-only all-inclusive resort Photo Credit Sandals Resorts 
Total arrivals for June 2021 were at 14,503, compared to 22,429 in June 2019. All indications are that the deficit is closing rapidly each month and is now showing a -35% deficit on our best year.  The true success story however is with arrivals from the US market. The month of June 2021 saw 12,205 US visitors a +9.8% increase over the total for June 2019 of 11,115. This was until now our best June ever for USA arrivals to Antigua and Barbuda. The hard work of the tourism teams in the overseas markets to remain engaged and active during and after the pandemic has now begun to bear fruit," said James.     The Antigua and Barbuda Tourism Authority CEO Colin C. James also noted that with Antigua and Barbuda now also on the UK's Green Travel List, arrivals will also begin to rise from that source market. Arrivals from the UK market for June 2021, stood at 1,383.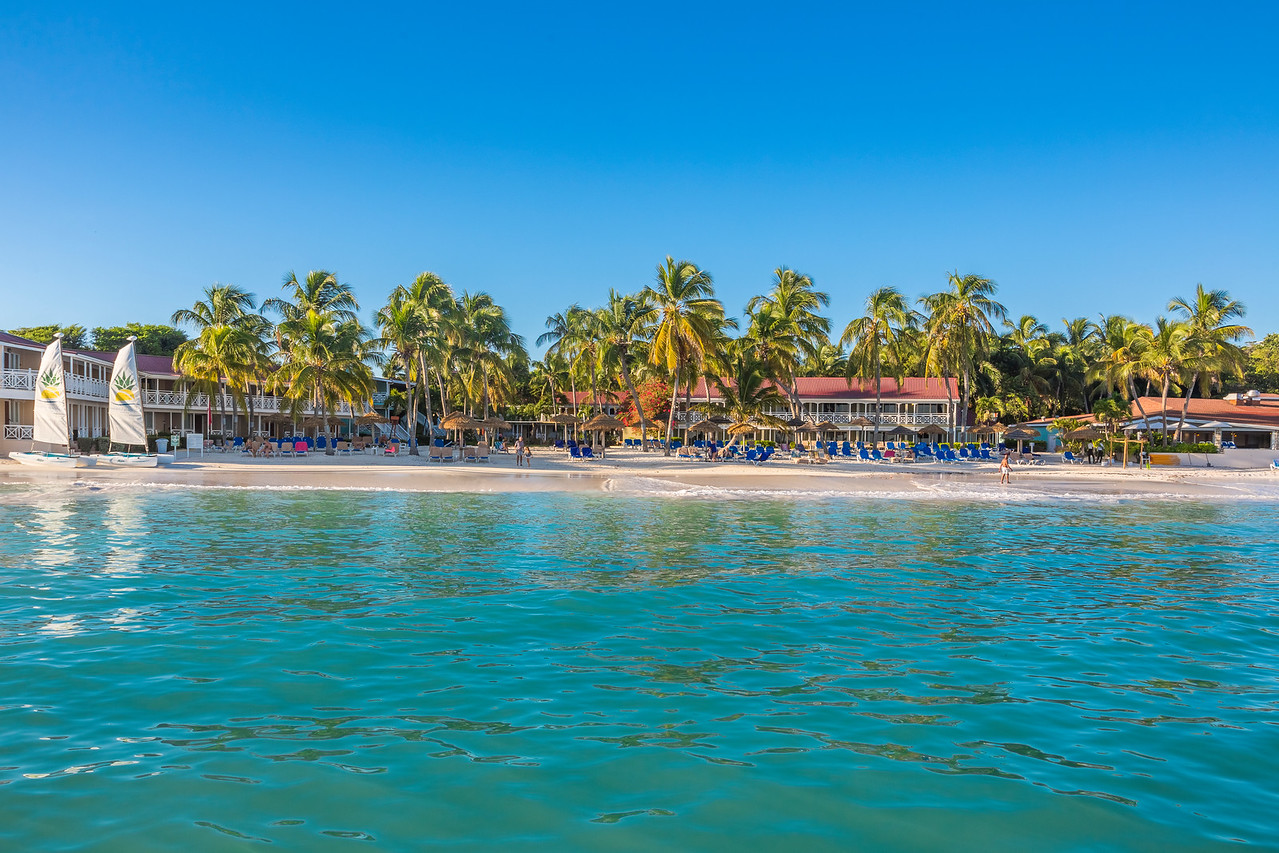 Pineapple Beach Club  is in  the  Elite Island collection of all-inclusive beachfront resorts Photo Credit Pineapple Beach Club
Private jet services to Antigua with 1,219 flights, carrying a noticeable number of first-time visitors have also been recorded between January and June 2021. This represents an +18.6% increase in private air travel to the country over the same period in 2019.  The growth in tourism arrivals comes as welcomed news to hospitality sector workers.  With some resorts nearing 100% occupancy and more visitors expected to travel to the country this Summer, industry workers are returning to work. The Antigua and Barbuda Hotels and Tourism Association reports that approximately 3,900 hotel staff are back to work and with average occupancy for July now projected at 71% versus an earlier reported 38%, resorts have begun to hire additional staff.  Prior to the pandemic, the number of hotel workers stood at approximately 5,600.  
Over 36,000 persons resident in Antigua and Barbuda have been vaccinated which is a strong positive safety indicator for consumers as they begin to make decisions on where to vacation.  
Plenty of private pool time at the adults-only all-inclusive Galley Bay Resort and Spa Photo Credit Galley Bay
In the wake of the pandemic, Antigua and Barbuda Tourism officials and stakeholders proactively shared the destination's 'sun, sea and safe' message, that encouraged adherence to covid-19 protocols and supported the Government's vaccination program.   The Antigua and Barbuda Tourism Authority's ongoing 'Your Space In Sun' marketing campaign, also addresses concerns of potential travelers on social distancing, while assuring industry partners and consumers that Antigua and Barbuda is safe and ready to receive visitors when they are ready to travel.  
ABOUT THE ANTIGUA AND BARBUDA TOURISM AUTHORITY  
The Antigua & Barbuda Tourism Authority is a statutory body dedicated to realizing the tourism potential of Antigua & Barbuda by promoting the twin-island state as a unique, quality tourist destination with the overall objective of increasing visitor arrivals thereby providing sustainable economic growth. The Antigua and Barbuda Tourism Authority is headquartered in St. John's Antigua, where regional marketing is directed.  The Authority has three offices overseas in the United Kingdom, United States, and Canada. 
ABOUT ANTIGUA AND BARBUDA 
Antigua (pronounced An-tee'ga) and Barbuda (Bar-byew'da) is located in the heart of the Caribbean Sea. Voted the World Travel Awards 2015, 2016, 2017 and 2018 Caribbean's Most Romantic Destination, the twin-island paradise offers visitors two uniquely distinct experiences, ideal temperatures year-round, a rich history, vibrant culture, exhilarating excursions, award-winning resorts, mouth-watering cuisine and 365 stunning pink and white-sand beaches – one for every day of the year. The largest of the Leeward Islands, Antigua comprises 108-square miles with rich history and spectacular topography that provides a variety of popular sightseeing opportunities. Nelson's Dockyard, the only remaining example of a Georgian fort a listed UNESCO World Heritage site, is perhaps the most renowned landmark. Antigua's tourism events calendar includes the prestigious Antigua Sailing Week, Antigua Classic Yacht Regatta, and the annual Antigua Carnival; known as the Caribbean's Greatest Summer Festival. Barbuda, Antigua's smaller sister island, is the ultimate celebrity hideaway. The island lies 27 miles north-east of Antigua and is just a 15-minute plane ride away. Barbuda is known for its untouched 17 mile stretch of pink sand beach and as the home of the largest Frigate Bird Sanctuary in the Western Hemisphere.  Find information on Antigua & Barbuda at: www.visitantiguabarbuda.com or follow us on Twitter. http://twitter.com/antiguabarbuda  Facebook www.facebook.com/antiguabarbuda; Instagram: www.instagram.com/AntiguaandBarbuda